Union Territories (UTs) are an essential form of administrative division within the Republic of India. They are governed directly by the Central Government through a Lieutenant Governor, who acts as the representative of the Indian President. On the other hand, States function as individual units within the Indian constituency, each having its own separate government.
India currently has eight Union Territories. These are 
Dadra and Nagar Haveli and Daman and Diu,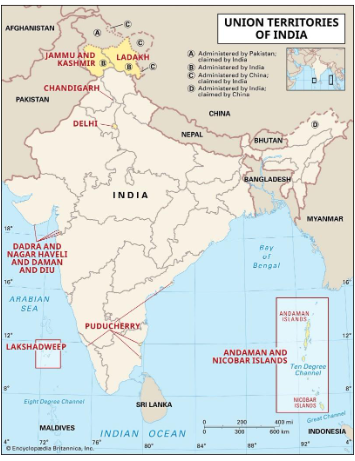 Historical Background of Union Territories:
The origin of territories administered by the Centre dates back to the pre-independence era when certain areas were identified as scheduled districts in 1874. Subsequently, these regions became known as Chief Commissioners provinces, wherein a Chief Commissioner directly reported to the Governor General/Viceroy of India.
The concept of Union Territories was formally established through the States Reorganisation Act of 1956, introduced by the Constitution (Seventh Amendment) Act of 1956. This brought about the notion of Union Territories as part of India's administrative structure.
Reasons for the Formation of Union Territories (UTs):
Small Population and Land Area:

Union territories, except Delhi, have relatively small populations and land areas. Establishing a legislative assembly and council of ministers for such small regions would pose a significant financial burden.

Strategic Locations:

Locations like Lakshadweep and the Andaman and Nicobar Islands are situated far west and east of the mainland, making direct governance from the Central government challenging due to the distance. Despite this, their strategic importance necessitates direct administration by the Indian government, especially in emergencies.

Protection of Indigenous Culture:

Certain Union Territories, including Dadra and Nagar Haveli, Daman and Diu (Portuguese influence), Puducherry (French influence), and Ladakh (distinct culture), have unique cultural identities compared to the surrounding states. Maintaining their distinct status helps protect their indigenous cultures.

Administrative Importance:

Delhi and Chandigarh serve as administrative capitals for India, Haryana, and Punjab, respectively. Given their pivotal roles, it is essential for the Indian government to retain administrative control over these Union Territories.

Security Situation and General Backwardness:

Union Territories like Jammu and Kashmir and Ladakh are located near India's borders with Pakistan and China. Due to security concerns and economic challenges arising from national and international tensions and frequent acts of terrorism, they require direct administration from the Centre.
Constitutional Provisions for Union Territories:
Articles 239 to 241 of Part VIII of the Constitution deal with Union Territories, outlining their administrative systems.

Article 239 of the original Constitution allowed the President to directly administer UTs through administrators. Later, in 1962, Article 239A was introduced, granting Parliament the authority to create legislatures for the UTs.

The Constitution (69th Amendment) Act, 1991, added Article 239AA, which provides unique provisions for the National Capital Territory of Delhi.

The President of India holds the power to issue regulations for the peace, progress, and good governance of Union Territories, and these regulations carry the same force and effect as laws passed by Parliament.

The Indian Parliament can establish High Courts for Union Territories through legislation, and any court in any territory may be proclaimed as a High Court.

Apart from Puducherry and Delhi, other Union Territories do not have their own legislatures, giving Parliament the authority to legislate on subjects covered by the Seventh Schedule's lists, including Puducherry and Delhi.

The Ministry of Home Affairs at the Centre serves as the nodal ministry for all matters concerning Union Territories, including legislation, budget and finances, services, and the appointment of Administrators.
Legislatures Composition in Union Territories (UTs):
According to the constitutional requirements governing the makeup of the legislature in Union Territories, it can either be an elected body or a body that combines both elected and nominated members.
However, having a legislature that is

partially elected and partially appointed

might not align well with democratic ideals, as a majority of appointed members can undermine representative democracy.
Difference Among UTs:
The Union Territories of

Andaman and Nicobar, Chandigarh, Dadra and Nagar Haveli and Daman and Diu, Ladakh, and Lakshadweep

do not have legislative assemblies, and their governance is directly under the authority of the appointed administrators.

On the other hand, the Union Territories of

Delhi, Jammu and Kashmir, and Puducherry

have legislative assemblies.

The legislative assembly of

Puducherry

has the power to enact legislation on matters included in

Lists II and III

of the

Seventh Schedule

of the Indian Constitution, but only to the extent that these subjects are applicable to the Union Territory.

Similarly, the

legislative assembly of the National Capital Territory of Delhi

also exercises legislative powers, with the exception that

Entries 1, 2, and 18

of

List II

are not within its legislative competence.
Governance of Union Territories:
Each Union Territory is governed by the

President

, who appoints an

administrator

to oversee the administration on their behalf.

The President has the discretion to decide who will be appointed as an administrator, and the administrator can be titled as

Lieutenant Governor, Chief Commissioner, or simply Administrator

.

In India,

five Union Territories

(Delhi, Puducherry, Ladakh, Jammu and Kashmir, and the Andaman and Nicobar Islands) are governed by a

Lieutenant-Governor

, while the remaining

three UTs

are governed by an

Administrator

.
| | | |
| --- | --- | --- |
| Difference | States | Union Territories |
| Definition | It's an independent body administered either by a unicameral or bicameral state legislature | It is not an autonomous unit but is managed by administrators appointed by India's President. |
| Executive Head | Governor | Lt. Governor |
| Administration | State Legislature: Governor, Chief Minister, and Ministerial Council | The central government is represented by Lieutenant Governors and Administrators. Three Union Territories have Administrators: Chandigarh, Lakshadweep, Dadar, and Nagar Haveli, and Daman and Diu; the remaining five Union Territories have Lieutenant Governors: Delhi, Andaman and Nicobar Islands, Jammu and Kashmir, Ladakh, and Puducherry (LG). |
| Relationship with center | Its nature is federal. | It is Unitary in nature |
| Election | Chief Minister is elected. | An LG/Administrator is appointed by the President. |
| Autonomy | Exists | It does not exist. |
| | |
| --- | --- |
| Union Territory | Capital |
| Andaman and Nicobar Islands | Port Blair |
| Chandigarh | Chandigarh |
| Dadra and Nagar Haveli and Daman and Diu | Daman |
| Delhi | New Delhi |
| Jammu and Kashmir | Srinagar (Summer), Jammu (Winter) |
| Ladakh | Leh (summer), Kargil (winter) |
| Lakshadweep | Kavaratti |
| Puducherry | Puducherry |
Concerns Associated with the Functioning of Union Territories (UTs):
Undermining Democratic Rights:

Citizens living in Union Territories lack the same democratic rights and accountability mechanisms as those residing in states. They have limited or no recourse to hold their governing authorities accountable, leading to a potential erosion of democratic principles.

Limited Powers of Elected Governments:

Even in UTs with elected governments, their powers are often significantly restricted compared to states. This imbalance can lead to governance challenges and hinder the ability of elected representatives to address the needs of the people effectively.

Dependency on Central Government Appointees:

Union Territories often rely heavily on officials appointed by the Central government to manage their administration. This can create a situation where the interests and priorities of the UTs may not align with those of the elected representatives or the citizens.

Lack of Representation and Protests:

The recent protests in Lakshadweep against the policies of the administrator highlight the issue of inadequate representation of the interests of UT citizens. Such situations can arise when the administration fails to fully represent and address the concerns of the local population.

Outdated Criteria for UT Creation:

The original criteria for creating Union Territories, based on population or size, may no longer be relevant in the current context. States that were once UTs, like Mizoram, Arunachal Pradesh, and Sikkim, now have smaller populations than some current UTs like Puducherry and Dadra and Nagar Haveli.

Culture and Identity Considerations:

The argument that some UTs need to be protected due to their distinct culture may not be as strong today, especially for smaller UTs like Daman and Diu or Puducherry, which have cultural and linguistic ties with their neighboring states.

Structural Fragility and Central Interference:

The constitutional arrangement of UTs can make them structurally fragile and susceptible to interference by the Central government. This interference may destabilize their functioning and hinder their ability to govern effectively.
Addressing these concerns and reevaluating the governance model for Union Territories is crucial to ensure that the democratic rights of the people living in UTs are upheld, and their unique needs and interests are adequately represented and protected.
FAQ
Question: How many states and union territories are there in India in 2022?
Answer: According to the Ministry of Home Affairs, as of  March 2023, there are 28 states and 8 union territories in India. The 8 union territories are Delhi, Andaman and Nicobar, Chandigarh, Dadra and Nagar Haveli, and Daman and Diu, Jammu and Kashmir, Ladakh, Lakshadweep, and Puducherry.
Question: Which is the largest and smallest union territory of India?
Answer: Lakshadweep is the smallest and Ladakh is the largest Union Territory in India based on area.
Related Articles