What is an Industrial Policy?
Industrial Policy refers to an official declaration made by the Government, outlining its general policies for industries. It encompasses the actions and policies of the government that influence a country's industrial development. The Industrial Policy Resolution of 1948 outlined the broad roles of the state in industrial development, acting as both an entrepreneur and an authority.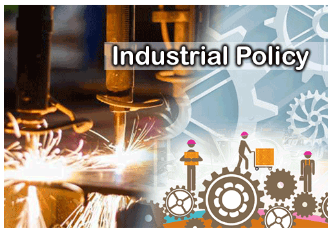 Need For Industrial Policies
Government intervention is widely accepted as essential to address market failures, which may result from inadequate capital markets, information imbalances, lack of necessary investments for exploiting scale economies, and insufficient data on firm-level spending in learning and training.

These factors provide compelling reasons to establish an economy-wide planning body in India's current economic situation.

However, it is crucial for the Indian government to move away from the "command and control" strategy that was prevalent before 1991.
Various Industrial Policies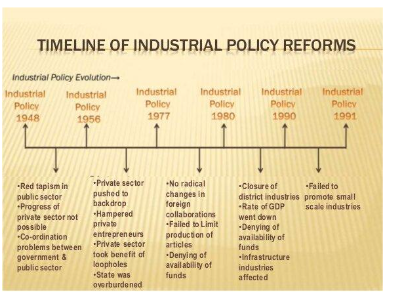 Industrial Policy Resolution of 1948
The Industrial Policy Resolution of 1948 emphasized a Mixed Economic Model and defined the state's role in industrial development as both an entrepreneur and an authority.

It categorized industries into four groups, including Strategic Industries (Public Sector) with a central government monopoly, Basic/Key Industries (Public-cum-Private Sector) established by the central government, and Important Industries (Controlled Private Sector) with central and state government control.
Industrial Policy Statement of 1956
The Industrial Policy Statement of 1956 laid the groundwork for industrial development policies until 1991.

It advocated increasing public sector participation, fostering a strong cooperative sector, and encouraging the separation of ownership and management in private industries.

Industries were divided into three categories: Schedule A, Schedule B, and Schedule C, each with specific features regarding government and private sector involvement.
Industrial Policy Statement 1977
The Industrial Policy Statement of 1977 focused on promoting cottage and small industries, mainly in rural areas and small towns.

The small sector was divided into three groups, including cottage and household sector, tiny sector, and small scale industries.

The policy aimed to reduce labor unrest and encouraged worker participation in management from the shop floor level to the board level.
Industrial Policy of 1980
The Industrial Policy of 1980 aimed to promote the concept of economic federation, increase the efficiency of the public sector, reverse the trend of industrial production of the past three years, and reaffirm belief in the Monopolies and Restrictive Trade Practices (MRTP) Act and the Foreign Exchange Regulation Act (FERA).
New Industrial Policy During Economic Reforms of 1991
The New Industrial Policy, introduced in 1991 amidst severe economic instability, sought to raise efficiency and accelerate economic growth.
Features of New Industrial Policy
De-reservation of Public Sector

: Sectors exclusively reserved for the public sector were reduced, while maintaining the public sector's pre-eminent position in five core areas, including arms and ammunition, atomic energy, mineral oils, rail transport, and mining. Currently, only Atomic Energy and Railway operations remain exclusively reserved for the public sector.

De-licensing:

Industrial Licensing was abolished for all projects except for a short list of industries. Presently, only four industries related to security, strategic, and environmental concerns require an industrial license.

Disinvestment of Public Sector

: Government stakes in Public Sector Enterprises were reduced to enhance their efficiency and competitiveness.

Liberalisation of Foreign Investment

: The policy allowed foreign companies to have majority stakes in India, with up to 51% FDI permitted in 47 high priority industries. For export trading houses, FDI up to 74% was allowed, and currently, there are various sectors in the economy with 100% FDI allowed.

Foreign Technology Agreement

: Automatic approvals for technology-related agreements were introduced.

Amendment of MRTP Act

: The MRTP Act's threshold limits of assets for MRTP companies and dominant undertakings were removed, and it was eventually replaced by the Competition Act 2002.
Outcomes of New Industrial Policies
Removal of bureaucratic hurdles in industrial growth and liberalization of the economy.

Limited role of Public sector reduced the burden on the Government.

Increased competition led to lower prices in many goods and attracted domestic and foreign investment.

Special efforts were made to increase exports through various concepts like Export Oriented Units, Export Processing Zones, etc.
Limitations of Industrial Policies in India
Stagnation of Manufacturing Sector: Industrial policies have failed to significantly boost the manufacturing sector, leading to a stagnant contribution to GDP since 1991.

Distortions in industrial pattern due to selective inflow of investments, with concerns over slow investment in some basic and strategic industries.

Displacement of labor as a result of restructuring and modernization.

Absence of incentives for raising efficiency and imbalanced growth with a focus on consumption-led rather than investment or export-led growth.

Vaguely defined industrial location policy, failing to address environmental concerns adequately.
Way Forward:
India's industrial policies have shifted from a predominantly socialistic pattern in 1956 to a more capitalistic approach since 1991.

The country now follows a liberalized industrial policy regime, focusing on attracting increased foreign investment and reducing regulatory burdens.

India's improved ranking of 77th on the World Bank's Doing Business Report 2018 reflects the positive impact of these policies.

Reforms such as the Bankruptcy and Insolvency Act of 2017 and the implementation of the Goods and Services Tax (GST) are expected to yield long-term gains for the industrial sector.

Strategic campaigns like Make in India and Start-up India have significantly enhanced the business ecosystem, fostering innovation and entrepreneurship.

Challenges remain, including electricity shortages, high prices, credit constraints, labor-related expenses due to regulations, political interference, and other regulatory burdens that hinder industrial sector growth.

To boost the manufacturing sector and address these challenges, the government has recognized the need for a new Industrial Policy, which is being drafted since December 2018. This policy aims to serve as a comprehensive roadmap for all business enterprises in the country, providing the necessary impetus for the manufacturing sector.
Draft – Statement on Industrial Policy 2022
Key highlights of the Draft New Industrial Policy:
Prepared by the Department for Promotion of Industry and Internal Trade (DPIIT), Ministry of Commerce and Industry.

Proposes the establishment of a development finance institution to provide finance at competitive rates.

Contemplates the utilization of some part of foreign exchange reserves for funding industrial initiatives.

Aims to address industry-related issues and challenges through targeted policy measures, fostering the creation of an innovative and competitive industrial ecosystem in the country.
Objectives of the Draft New Industrial Policy:
Focus on enhancing competitiveness and capability within the industrial sector.

Promote economic integration and facilitate the upward movement in the global value chain.

Position India as an attractive destination for investment opportunities.

Nurture a culture of innovation and entrepreneurship to drive industrial growth.

Strive to achieve global standards and scale in industrial operations.
Related Articles