Poverty refers to the state or condition where individuals or communities lack the financial resources and essential means to maintain a minimum standard of living. In this situation, the income from employment is so insufficient that basic human needs cannot be adequately met. 
As per the World Bank, poverty represents a pronounced deprivation in overall well-being and encompasses various dimensions. It involves low incomes, the inability to access essential goods and services required for a dignified existence, as well as limited access to healthcare and education, clean water and sanitation, and inadequate physical security. Moreover, poverty deprives individuals of a voice and hampers their capacity and opportunities for life improvement.
In India, approximately 21.9% of the population lived below the national poverty line in 2011. On a global scale, as of 2018, nearly 8% of the world's workforce and their families were living on less than US$1.90 per person per day, which is the international poverty line.
Types of Poverty: There are two primary classifications of poverty:
Absolute Poverty

: This condition occurs when household income falls below the necessary level to sustain basic living standards, including access to food, shelter, and housing. Absolute poverty allows for comparisons between different countries and tracking changes over time. Initially introduced in 1990, the "dollar a day" poverty line measured absolute poverty based on the standards of the world's poorest countries. In October 2015, the World Bank adjusted it to $1.90 a day.

Relative Poverty

: This type of poverty is defined from a social perspective, comparing an individual's living standard to the economic standards of those living in their surroundings. It serves as a measure of income inequality. Typically, relative poverty is calculated as the percentage of the population with income less than a fixed proportion of the median income.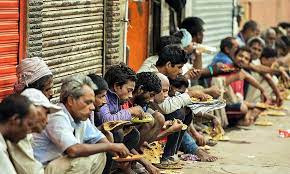 Poverty Estimation in India: 
In India, poverty estimation is conducted by NITI Aayog's task force, utilizing data gathered by the National Sample Survey Office under the Ministry of Statistics and Programme Implementation (MOSPI). The poverty line is determined based on consumption expenditure rather than income levels. Consumer expenditure surveys from the National Sample Survey Organisation are used to measure poverty, identifying households with expenditures below a specific poverty line. The incidence of poverty is measured through the poverty ratio, which represents the percentage of the population living below the poverty line.
Various committees, such as the 
Lakdawala Committee (1993), 
Tendulkar Committee (2009), and 
Rangarajan Committee (2012),

 
These committees have been involved in poverty estimation. According to the Rangarajan committee report (2014), the poverty line was set at a Monthly Per Capita Expenditure of Rs. 1407 in urban areas and Rs. 972 in rural areas.
Causes of Poverty in India: 
There are several factors contributing to poverty in India:
Population Explosion

: India's steady population growth, with about 17 million people added each year, increases the demand for consumption goods.

Low Agricultural Productivity

: The agriculture sector faces low productivity due to fragmented land holdings, lack of capital, illiteracy about modern farming technologies, traditional cultivation methods, and storage wastage.

Lack of Inclusive growth:

Despite an increase in National Income and Savings rate since independence, poverty has not significantly reduced. The growth in industries failed to create sufficient employment opportunities, mainly benefiting the rich rather than aiding the poor. The adoption of capital-intensive and labor-displacing technology contributed to increased unemployment and underemployment. Additionally, income inequalities rose, hindering significant improvements in per capita income for weaker sections of society. The trickle-down effect of overall economic growth was limited in its reach. 

Inefficient Resource Utilization

: Underemployment and disguised unemployment, particularly in the farming sector, result in low agricultural output and living standards.

Low Rate of Economic Development

: Economic development was slow in the initial 40 years of independence before the LPG reforms in 1991.

Price Rise

: Steady price rise (inflation) places a burden on the poor, who find it challenging to meet their basic needs.

Unemployment

: The increasing population creates a higher demand for jobs, but there are insufficient opportunities to meet this demand.

Lack of Capital and Entrepreneurship

: Insufficient capital and entrepreneurship lead to low investment and limited job creation.

Social Factors

: Certain social factors, such as inheritance laws, the caste system, and specific traditions, hinder poverty eradication efforts.

Colonial Exploitation

: India's two centuries of British colonial rule resulted in the de-industrialization of the country, making it a raw-material producer for European industries.

Climatic Factors

: Natural calamities like floods, earthquakes, cyclones, and disasters in states like Bihar, UP, MP, Chhattisgarh, Odisha, Jharkhand, etc., cause substantial damage to agriculture and contribute to poverty.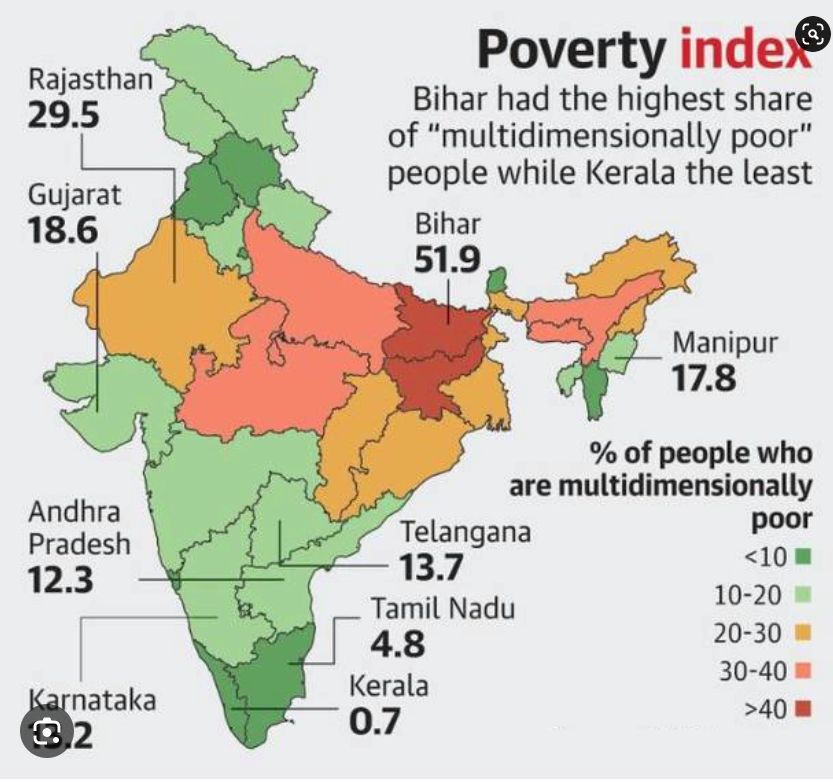 Poverty Alleviation Programs in India:
Integrated Rural Development Programme (IRDP):

Launched in 1978-79 and universalized from 2nd October, 1980, this program aims to provide assistance to the rural poor through subsidies and bank credit, facilitating productive employment opportunities across successive plan periods.

Jawahar Rozgar Yojana/Jawahar Gram Samridhi Yojana:

Geared towards generating meaningful employment opportunities in rural areas, the JRY focuses on creating economic infrastructure and community and social assets for the unemployed and underemployed.

Rural Housing – Indira Awaas Yojana:

The Indira Awaas Yojana (LAY) program aims to offer free housing to Below Poverty Line (BPL) families residing in rural areas, with a specific emphasis on households belonging to Scheduled Castes (SC) and Scheduled Tribes (ST).

Food for Work Programme:

Targeting enhanced food security through wage employment, this initiative provides food grains to states without charge. However, the supply from the Food Corporation of India (FCI) godowns has faced delays.

National Old Age Pension Scheme (NOAPS):

Implemented by panchayats and municipalities in states and union territories, this pension scheme, provided by the central government, offers ₹200 per month to applicants aged 60-79, and ₹500 per month to those aged above 80, as per the 2011-2012 Budget.
Annapurna Scheme:

Introduced in 1999-2000, this scheme aims to provide food assistance to senior citizens who cannot care for themselves and are not covered by the National Old Age Pension Scheme (NOAPS). Eligible senior citizens receive 10 kg of free food grains monthly, with a focus on the "poorest of the poor" and "indigent senior citizens."

Sampoorna Gramin Rozgar Yojana (SGRY):

Focused on generating wage employment and creating durable economic infrastructure in rural areas, the SGRY aims to ensure food and nutrition security for the underprivileged.

Mahatma Gandhi National Rural Employment Guarantee Act (MGNREGA) 2005:

The MGNREGA ensures 100 days of guaranteed employment each year for rural households, with one-third of the proposed jobs reserved for women. The central government establishes the National Employment Guarantee Fund, while state governments create State Employment Guarantee Funds for program implementation. Applicants not provided employment within 15 days are entitled to a daily unemployment allowance.

National Rural Livelihood Mission: Aajeevika (2011):

Aiming to meet the diverse needs of the rural poor and provide regular monthly income, the Aajeevika program forms Self Help Groups at the village level to assist those in need.

National Urban Livelihood Mission:

The NULM focuses on organizing urban poor into Self Help Groups, offering skill development opportunities leading to market-based employment, and facilitating the establishment of self-employment ventures through easy access to credit.

Pradhan Mantri Kaushal Vikas Yojana:

This scheme targets fresh entrants to the labor market, especially class X and XII dropouts, providing them with skill development opportunities.

Pradhan Mantri Jan Dhan Yojana:

Aimed at direct benefit transfers of subsidies, pensions, insurance, etc., this initiative successfully opened 1.5 crore bank accounts, particularly targeting the unbanked poor.
Steps needed to eliminate poverty in India
Boost Inclusive Economic Growth:
Promote policies and strategies that foster inclusive economic growth, ensuring that the benefits of development reach all segments of society. Encourage investments in labor-intensive sectors to generate more employment opportunities and reduce unemployment rates. According to the International Labour Organization (ILO), India's unemployment rate was 6.1% in 2021, with the youth unemployment rate reaching 24.8%.
Enhance Skill Development and Education:
Invest in skill development programs and quality education to empower the workforce with the necessary skills for better employability. According to the World Bank, as of 2021, the literacy rate in India stood at 77.7%, showing room for improvement. Skills training would equip individuals for higher-paying jobs, enabling poverty reduction.
Strengthen Social Safety Nets:
Establish robust social safety net programs to provide targeted support to vulnerable populations. Expanding schemes like MGNREGA can offer employment and income security to rural households. In 2021-2022, the government allocated Rs. 73,000 crores to MGNREGA, providing crucial assistance to millions of families.
Focus on Agriculture and Rural Development:
Invest in agriculture and rural development to uplift rural communities and decrease dependency on agriculture as the primary source of income. In India, the agriculture sector accounts for around 14% of the GDP but employs nearly 50% of the workforce, making it necessary to diversify income sources for rural households.
Targeted Poverty Alleviation Programs:
Implement targeted programs to address specific needs of marginalized communities, including Scheduled Castes (SCs), Scheduled Tribes (STs), and other vulnerable groups. According to the National Family Health Survey-5 (2019-2020), the Infant Mortality Rate (IMR) in SCs and STs was 38 and 41 deaths per 1000 live births, respectively, higher than the national average of 29.
Access to Financial Services:
Facilitate greater financial inclusion by promoting access to formal financial services, such as banking and insurance, especially in rural areas. According to the World Bank's Global Findex Database 2017, only 14% of adults in the poorest 40% of households in India had a bank account.
Address Gender Inequality:
Promote gender equality and women's empowerment, as empowering women has a direct impact on poverty reduction. According to the Gender Inequality Index (GII) 2021, India ranks 101 out of 162 countries, indicating the need for focused efforts to bridge the gender gap.
Strengthen Health and Sanitation Infrastructure:
Invest in healthcare facilities and sanitation infrastructure to improve the health and well-being of the population. According to the World Health Organization (WHO), India spent only 3.7% of its GDP on healthcare in 2021, highlighting the need for increased investment in the health sector.
Sustainable Development Goals (SDGs) Implementation:
Align poverty eradication efforts with the United Nations Sustainable Development Goals (SDGs) to address multidimensional aspects of poverty, including hunger, education, and health. Integrating these goals into national policies can bring substantial progress.
Strengthen Data Collection and Monitoring:
Improve data collection and monitoring mechanisms to accurately assess poverty levels and target interventions effectively. Timely and accurate data helps in formulating evidence-based policies for poverty alleviation.
Implementing these steps with dedication and sustained efforts can help India make significant strides in eradicating poverty and improving the lives of millions of its citizens.
According to the Global Multidimensional Poverty Index-2018 released by the UN, India has made significant progress, with 271 million people moving out of poverty between 2005-06 and 2015-16. The poverty rate has nearly halved from 55% to 28% over the ten-year period. However, a substantial portion of the Indian population still lives below the poverty line.
Although rapid economic growth and the use of technology in social sector programs have contributed to reducing extreme poverty, there is an urgent need for a more comprehensive and inclusive approach to completely eradicate poverty in India.
Related Articles